Cannabis Plants with both parts!
First of all we need to learn there is a female and male cannabis plant! 
Growers call a cannabis plant with both sex a "hermie," A hermaphrodite plant will have both the male and female flowers growing throughout the plant.
How does a Plant Hermie?
- Plant Stress
- Light Issues
- Environmental Issues
- Poor Genetics (Growing a Seed from another hermie)
- Over mature plants
What do I do??
As the grower you have two options... You can carefully remove the plants from your space so no pollen reaches your other plants or if you are nearing harvest time, try and pull off any male parts.. this can help push an extra week or 2 outta the plant. Once a plant has hermied it starts to focus all its growth on seed / pollen production rather then resin (trichomes)
Bananas "Nanners"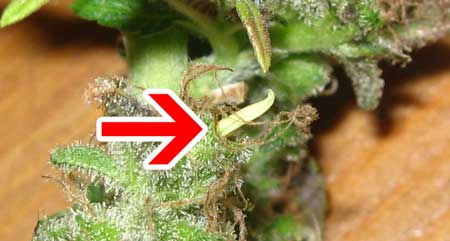 Nanners are usually the first thing we see as growers to indicate a hermied plant. They grow from the inside of the bud and will pollenate everything in its path! They wont do to much damage to the other plants in the space unless you a jammed packed! If you are nearing harvest.. this might be a indication its time! Unlike male Pollen sacs.. these Nanners have already bursted soo the pollen is already in the flower. 
Can you grow out a seed that came from a Hermied plant?
IMO I wouldn't waste your time growing out a Hermied seed! there is a 75% chance of another Hermie, and 25% chance of a female! You are welcome to test this out yourself tho!
HAPPY GROWING
?Cannabis Live Grow : https://www.twitch.tv/thebudlabca
Posted : 20/12/2021 9:04 am